What Is Icehouse Central?
Exclusive To Icehouse Alumni
For a while now, we've been thinking about how to create better ways for our wonderful Icehouse Alumni to stay connected and continue to learn and grow. This has given birth to Icehouse Central and we are now really excited to share this with you.  
Icehouse Central is a free-to-use platform designed to enable and support a thriving alumni community; a community that enables you to leverage the alumni network through business introductions, helpful chat and conversations, peer support and continued learning through curated content and a business tool shed. 
Join the thriving community of Icehouse Alumni. Open your networks, chat to peers and discover the mutually beneficial opportunities that come from Icehouse Central.
Icehouse Central is much more than a useful directory, it a safe space created to enable you to grow, learn and connect to fellow alumni.


Are you an Icehouse alumni and don't yet have an Icehouse Central account? Request an invitation above!
Not yet an alumni? Discover our programmes and coaches here.
Connect With Other
Icehouse Alumni
After 20-years of guiding Kiwi businesses and assisting to develop business owner and leaders capabilities further, through Icehouse Central we are able to make available to you this community made up of thousands of Kiwi businesses, from every conceivable sector, industry and spanning the entire country.
Search for Icehouse Alumni and businesses in your local area and abroad, you will be surprised how many businesses you can make an Icehouse connection with.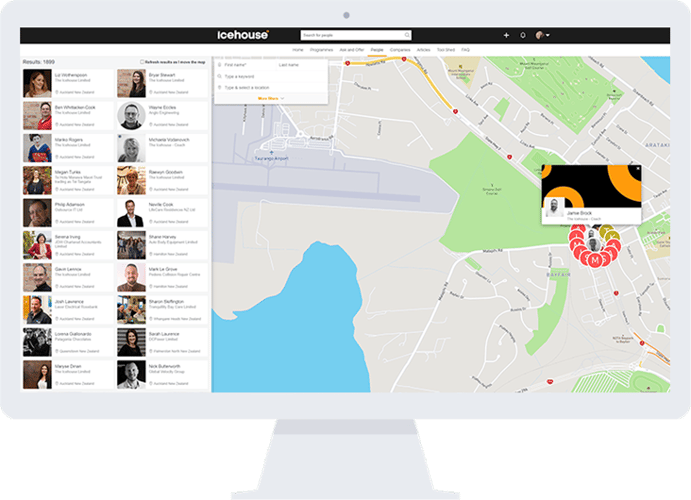 A Business Directory For
Commercial Introductions
Often when looking for a solution to a business need or problem we seek advice or referrals from a trusted source. Icehouse Central provides that trusted network of other like-minded Kiwi businesses you can connect with for support.
Ask & Offer
The Icehouse Community Effect
Give back to your peers by offering them your help and answering their questions or requests via the notice board and forum.
It is also a space, for you to in turn ask for help and ask questions. You give, they give.