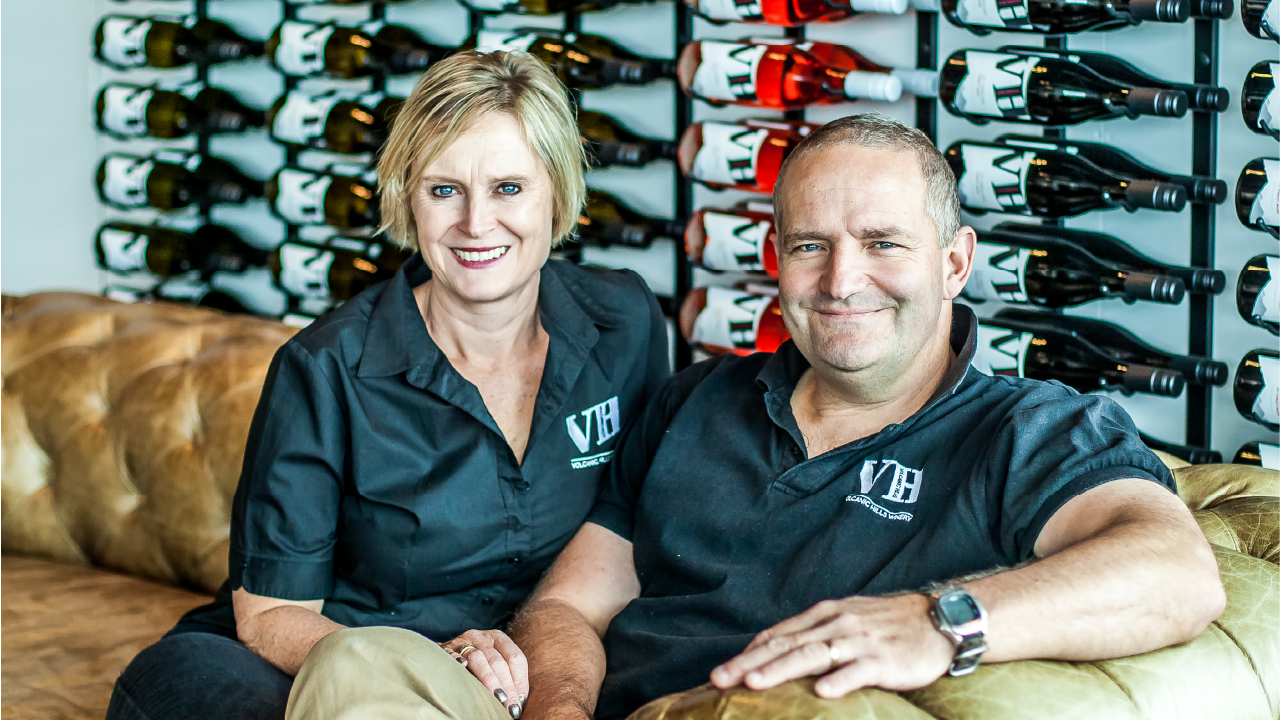 Brent Park, Wine Maker and Sales person, and Larissa Park, Business Manager, are the co-founders and husband and wife team behind Volcanic Hills Winery, founded in 2009. The Volcanic Hills Tasting Room is located at the top of Rotorua's iconic Skyline Gondola, and opened in December 2012. The Volcanic Hills Winery resides at the base of the Gondola, and opened in 2013.



Location: Rotorua
Business Type: Wine production and sales, operating in both Hospitality and Tourism
Founded: 2009
Number of Employees: 2 – there were 6 at the beginning of 2020
Current Business Situation: Pivoting the business towards a more local focus and diversifying existing range of products.
The Icehouse Business Coach: Jamie Brock

'Engage a business coach. When you're deep inside your business you can become complacent. Finding somebody who identifies with who you are, and understands your challenges can help drive you forward.' - Brent Park, Volcanic Hills Winery


Tell us about yourself and why you decided to become an entrepreneur?

Brent – I guess I pushed Larissa into it! I studied winemaking at University in 1992, travelled the world learning wine and became a winemaker for a large wine company. Larissa has a background in finance and accounting. We had the knowledge, and it was a good fit, so we set up the business with a vision of creating delicious wine and providing a relaxed wine tasting experience showcasing wines from New Zealand's best wine growing regions to both international and domestic visitors to Rotorua.


Why did you choose your type of business?

Brent – Rotorua was the obvious choice because it is a premium tourist destination (and I grew up here) – we're the only winery in Rotorua, which gives us that point of difference in town and a uniqueness around what we're trying to do.

Larissa – Having grown up in Rotorua, Brent could see the opportunities for our business. He knew the lay of the land which gave us an 'in' to places. When you're a small business, getting your first sales and your business established is so important. People in town think we've been here for 20 years when we've only been here for eight!


How were things going before COVID-19?

Larissa – Really well – the summer had been strong for both the wine sales and wine tasting parts of the business. People don't expect a winery in Rotorua, so that's allowed us to morph into a well respected tourism attraction that offers something completely different to a traditional winery experience. We appeal to the B2B and B2C market, which has also given us more depth and reach across the international stage.


How have you and your business been impacted by COVID-19?

Larissa – Our Tasting Room used to close four days a year, now it's closed four days a week. We've lost a good 60-70% of our visitors (being the international guests) through COVID, so we've had to adapt to be more appealing to the local market. We haven't changed our offering so much, what we have done is moved into a 'kick back and relax and have a glass of wine while the kids are luging' mode, which has been well received and supported by New Zealanders. We hope to extend our Tasting Room hours again before summer.

We have also launched a second label aimed at functions and the 'value' end of market and are investigating other opportunities to expand our range further.

Brent – The one luxury is that because we developed the business from day one, we have indepth knowledge of all areas of the business so have been able to return to being very hands on and make changes as necessary. It's about changing where you are and what you want to achieve from the business.


What are currently your biggest challenges?

Brent – It feels like we've taken a giant step back and reset, working out what we can do to make our business more profitable. When lockdown arrived we went straight into survival mode. The key for us will be when the Australian travel bubble opens, hopefully later in the year, as Australian tourists are a large proportion of our international visitors. July has been a good month as Kiwi tourists have got out and about more, mostly due to the school holiday period, for which we are grateful.


What kind of support have you received from The Icehouse and are you looking to keep working with them?

Larissa – We received Covid 19 Business Support funding through the RBP, which led to working with Jamie Brock (Icehouse Coach and Regional Lead, Bay of Plenty). The Icehouse were due to come down to Rotorua in March 2020 and I'd set up a meeting with Jamie. This was cancelled just before lockdown and replaced with a phone conversation. We decided to apply the funding we secured to enable us to work with Jamie throughout lockdown and we have continued to work together since then.


How have things changed since working with The Icehouse?

Brent – I was a little sceptical because we had had mixed results with previous coaches. As a family-owned business, it's important to be careful and finding a coach who understood both the wine industry and tourism was imperative for us. We asked Jamie a few complicated questions early on, and he came up with what seemed the right answers. He told us to trust the system and trust in what we do, which was a success pre-COVID, and that really resonated, along with ways to enhanced our business going forward, which we are working on now.

Larissa – We're working with Jamie at a high level each month on an ongoing basis. He's helping us focus on a path which will accomplish short-term success and long-term goals, as well as coming up with some low-cost ideas around marketing and sales which has really helped our online presence.


What advice would you give to other entrepreneurs who are struggling/looking for help?

Brent - Engage a business coach. When you're deep inside your business you can become complacent. Finding somebody who identifies with who you are, and understands your challenges can help drive you forward.



For more information about Volcanic Hills Winery, their wines and Tasting Room, follow this link.
---
Other news